For me, the best place in the world doesn't have roller-coaster rides, snow-cones, beach chairs, or room service.  It doesn't even have hot showers, electric lights, or cell service (though I admit, we're probably open to the snow-cone thing).  The best place in the world, for my money, is Deerfoot, of course.  Which begs the question:  Why is it that hard things can be so good, and yet good things can be so hard to enjoy?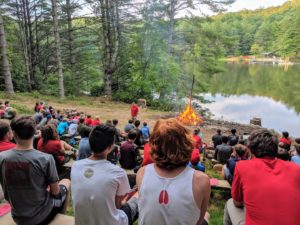 In his recent book Tribe:  On Homecoming and Belonging, Sebastian Junger writes, "Humans don't mind hardship, in fact they thrive on it; what they mind is not feeling necessary. Modern society has perfected the art of making people not feel necessary."  To put it simply, the reason why I, and so many others, love serving on staff at Deerfoot is because we are needed there.  Deerfoot has thrived for over 90 years on the backs of college students on summer break, sweating, praying, hiking, and living their lives transparently alongside their campers.  Deerfoot is God's place, and he has chosen to use his people to do his work.
In Paul's letter to the Ephesians, he develops a powerful juxtaposition.  First, he demonstrates the futility of human workmanship when it comes to salvation with his memorable repetition: "by grace… through faith… no one can boast".  He follows that by immediately getting to the essential fact that, as grace-established Christ-followers, we have significant work to do.
For it is by grace you have been saved, through faith—and this is not from yourselves, it is the gift of God— not by works, so that no one can boast. For we are God's handiwork, created in Christ Jesus to do good works, which God prepared in advance for us to do. – Ephesians 2:8-10
"I just want to be a part of something bigger than myself."  These words are tired enough to sound like bad dialogue from a low budget, B-movie.  We all know we need purpose, but the ambiguity of a statement like the one above demonstrates that the world's desperation has made it ignorantly indifferent about what its purpose is.  Yes, we are made to be people of purpose and courage.  But that purpose is clear and unambiguous, prepared definitively by our God:  We are meant to be a part of God's redemptive work in the world and in his people.
So why do we love Deerfoot, where with bleary eyes we grip a cup of coffee at staff meeting while our friends back home press "snooze" on their alarms one more time?  We love it because we were made to love it.  We are doing what God made us to do.
When we sing together before the opening of a session, many of us do so with tears in our eyes.  We believe in what God is doing at camp.  If you believe in what God is doing, and you're able to spend a summer of significance with us, then please apply to join us at Deerfoot.  If you know someone who could serve on staff at DL, point them to the online staff application.  Together, the Deerfoot family is doing work that matters for God's Kingdom, and we're doing it with his omnipotent backing.
Oh, and save those DL staffers a beach chair and a snow cone for their days off.  Even rest can have purpose among the workers in God's Kingdom.